Every Christmas, I approach this end-of-the-year review business with something of a heavy heart – I warm to it as I get into it, but generally I can't be arsed with it. Nonetheless, I'm aware of my responsibilities to an attentive audience and was just starting to compile a "Seven Great Gigs of 2017" list when I realised that somewhat embarrassingly 2017 has been more than a little thin on the live music front – suffice to say it was going to be a bit a scrape, barely worth the effort.
So I thought, I'll start a Best of the Year list (again, pretty much obligatory in the trade) but then I thought "Why?". Not in a Kenneth Williams, "what's the bloody point?" sort of a way, more a why not give the hungry reader a Christmas present they actually want?
Like some wonky South American tunes, for example…
Lucky Seven – Siete de la Suerte
Actually, there's eight, they're not all South American and (of course) they're not all new but, hey, it's a hook. These are all bands and records I've enjoyed this year and meant to write about, but, well you know how it goes…
No Somos Malos – Los Dug Dug's (from Smog)
Los Dug Dug's (the grocer's apostrophe is a thing apparently) are a Mexican band and are still making records. This is a cracker straight from the seventies, though, all driving fuzz tone and demented psychedelic flute. It opens their second record, Smog released in 1972 and their "masterpiece" according to one punter. It's pretty much the template for most of the rest of it – although I'll spare you the 12-minute closer, Hagámoslo Ahora. Let's do it!
Acto I – Lula Pena (from Troubadour)
The other track which isn't actually South American, this track is also the opener from the second record, but these are pretty much the only links you could possibly make between them. This is your proper, deep Portuguese fado, a genre I'd found pretty much impenetrable until I came across Ms Pena's breathy, mysterious intensity. Worth soldiering on blindly through ten dark minutes if only for the extraordinary period of rhythmic panting she embarks on towards the end…
Run Montang Run – Flaming Salt (from Brazilian Nuggets, Vol I)
If I was organising things properly this one probably belongs after the Dug Dug track, seeing as how it's a
nother crazy, arms flailing garage track. I bought a whole collection of stuff I'd never heard in a compilation, thinking it was from the sixties but actually it's nineties stuff, which is OK, I think. I know nothing about Flaming Salt except they are signed to Sao Paulo label Menino Muquita and that you can download a whole album from them for free from their Bandcamp page (I discovered this about two minutes ago)…
Nunca Olvidarme Mi Acento – Dat Garcia (from Maleducada)
The Dat Garcia album was a bit of a dark horse with me, again having heard nothing of or about her before. But it's pretty good album from Argentinian singer/rapper and aural kleptomaniac who has a particular affection for indigenous sounds and rhythms. I'm still a sucker for the sound of sung or spoken Spanish, and during July this was a record I spent a lot of time on. A bit spooky, a bit glitchy, hooked I was.
Atahualpa – Nación Ekeko (from La Danza)
Another record from Argentina, another singer with sticky fingers and an ear for itchy Latin rhythms. Nación Ekeko are actually the side project of Diego Pérez, who is part of an experimental electronica duo called Tonolec another bunch of furiously acquisitive Guarani fiends. It's a cracking track driven along insistently by a mixture of electronic beats and hand percussion, and guided round the corners by intricate guitars and strings. Lovely stuff.
Cumbia Volcadora – Orkesta Mendoza (from Vamos a Guarachar!)
I'm sure I rea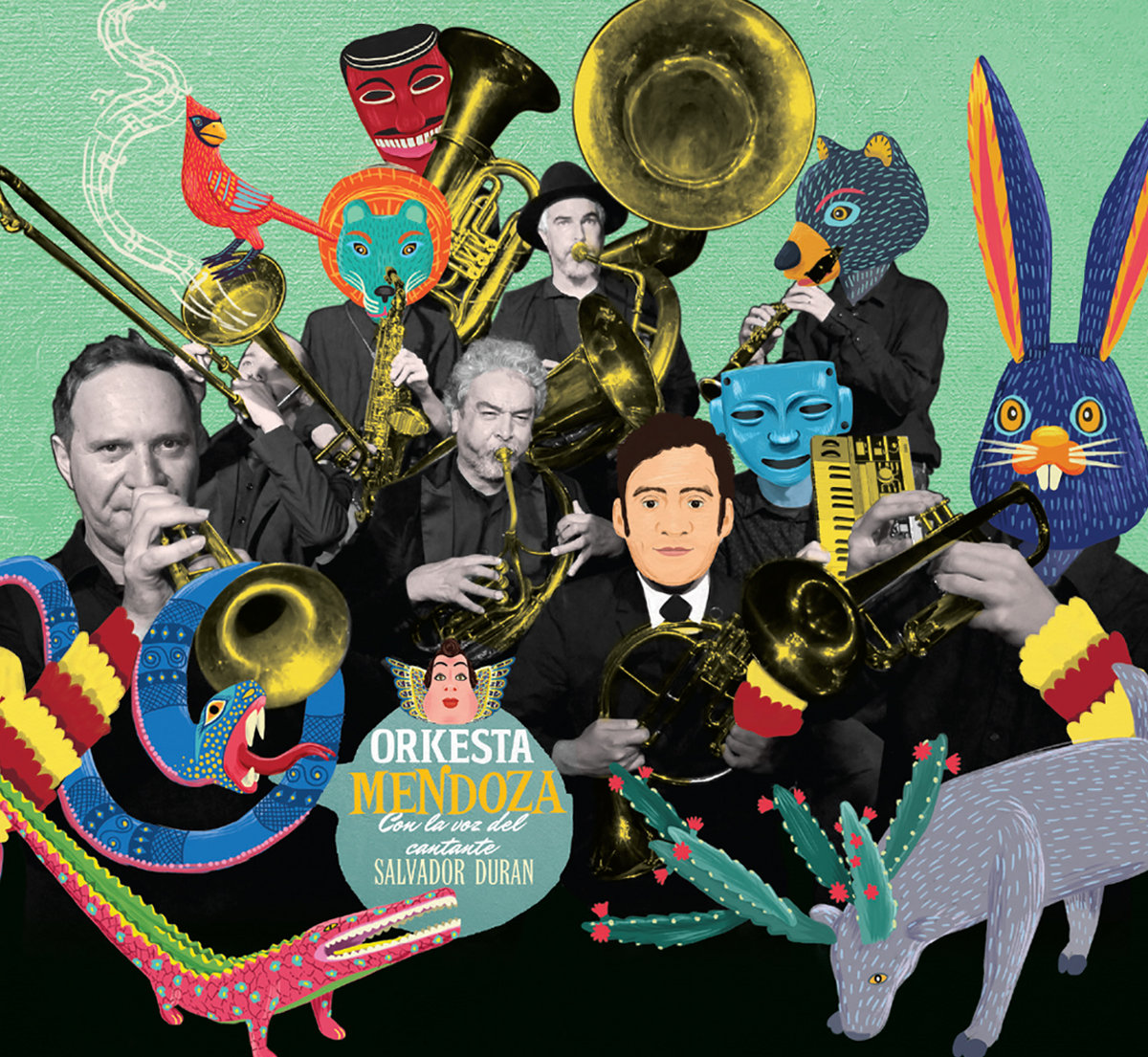 d something once about Cumbia Refrita – cumbia that's been slowed down, rehashed, re-fried as it were – but I can't for the life of me find anything about it now. If it's nothing more than a figment of my fragile imagination, well, it damn well should be a thing…
Sergio Mendoza is a compadre of Calexico and similarly lives in the US but has deep Mexican routes. This is an engaging track, all the traditional elements of Cumbia slowed down and remixed, including the vocals, at times almost like a record at slightly the wrong speed, but like the beans, on the next morning a whole different thing entirely…
Que Me Duele? – Quantic, Nidia Góngora (from Curao)
Quantic is one of those wizard DJ/crate-diggers who puts together records as well, mostly pretty dance-y stuff, but often with enough other stuff to interest the older, more arthritic listeners too. Nidia Góngora is a Columbian singer who has her own band but whose collaboration with Quantic came out this year and is a hugely entertaining listen with all its African roots clearly on show. Again, all sorts of prickly clever stuff going on behind the prevailing rhythms.
Flores de
l desierto – Soema Montenegro (from Passionaria)
I did actually get around to writing about Soema Montenegro in May and I have little to add to those wise words, other than to say she still sounds as offbeat as she did then and that her third record is now available from her Bandcamp page. Not someone you'd want to be sat next on a long journey…
Felices Navidades!